Magiskt i Fjällen 2014 - Mountain magic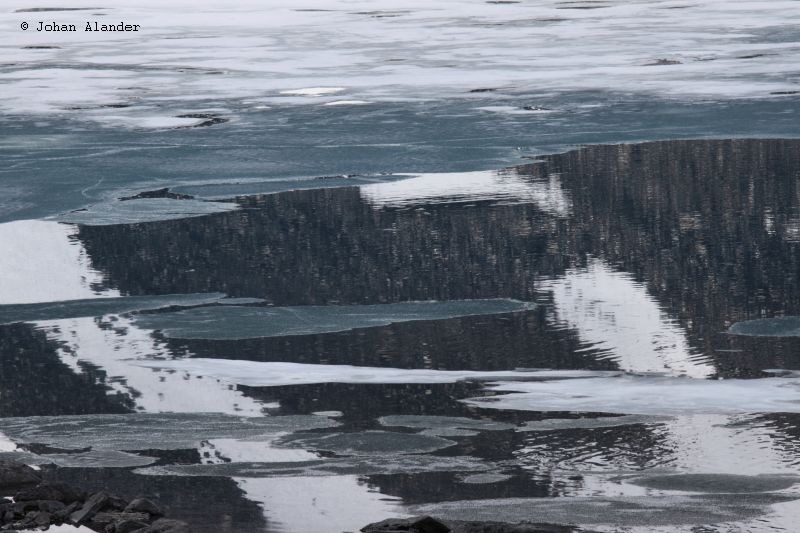 Copyright: Johan Alander
Fotodatum: 2014-07-06
Kamera: Canon EOS 500D Exponeringstid: 1/200 Bländare: 10 ISO: 100

Jojoleden

Jojo-leden från Nallostugan till Tarfalastugan.

Abisko turiststation till Abiskojaurestugan
Solen skiner, vindstilla, säkert 20 grader C i luften, Torne träsk ligger blank, så här bra blir det sällan! Vandrar nu mot Abiskojaurestugan. Räknar med att vara åter i civilisationen (med täckning tex) om 7 dagar ca. Vandrar efter Abiskojåkka och Abiskojaure till stugan. Där väntar sedvanlig saft samt bastu och middag. En vacker dubbel regnbåge visar sig över stugan.
Turens längd: 15 km / 4 - 6 tim.
Höjdskillnad: 100 m uppför.
Avstånd enligt www.svenskaturistforeningen.se.
Abisko turiststation to Abiskojaure hut
The sun is shining, no wind, about 20 degres in the air, the lake Torne träsk is completely calm. It cant get better! Starting my hike towards the Abiskojaure hut, calculating that i Will be back in civilisation (with cellphone coverage) in about 7 days. Hiking along Abiskojåkka river and Abiskojaure lake to the hut. At the hut the usual cordial will be served, and later there Will be dinner and sauna. A beautiful duoble rainbow was visible over the hut.
Distance: 15 km / 4 - 6 hours.
Altitude: 100 m uphill.
Distance according to www.svenskaturistforeningen.se.
Abiskojaurestugan till Alesjaurestugan
Vandrar i regn och i sol längs med Kungsleden. Tar inte båten över Alisjavri utan vandrar hela vägen till stugan. Ett vad ca 2 km före stugan. God middag på pasta med pesto, bastu med öl och ölkorv, sedan citronfromage som efterrätt!
Turens längd: 20 km / 6 - 8 tim.
Höjdskillnad: 280 m uppför.
Avstånd enligt www.svenskaturistforeningen.se.
Abiskojaure hut to Alesjaure hut
This days hiking is in rain and sunshine along the Kungsleden trail. I choose to walk all the way to the hut and not to take the boat over Alisjavri. A great dinner on pasta with pesto, sauna with beer and snacks and a lemonfromage for the final.
Length: 20 km / 6 - 8 hours.
Altitude: 280 m uphill.
Distance according to www.svenskaturistforeningen.se.
Alesjaurestugan till Nallostugan
Började vandra kl 9 efter obligatorisk vattenhämtning, slasktömning och städning av rummet. Fortsatte efter Kungsleden mot Tjäktjastugan, viker dock av upp i Sielmmavaggi, följer bäcken upp i dalen. Efter lite felorientering i dimman, moln från ca 1100-1200 m höjd, så kom jag tillbaka till Tjäktadalen, den andra gången följdes kompassen och höjdmätaren noggrant och jag kom rätt i passet. Besvärlig vandring i Sielmmavaggi med mycket snö, blöta snöbryggor över bäckarna och ett halt löst stenparti på vägen ner. Mycket snö över huvud taget denna sommar, säger stugvärdarna. Jag hade tur nog att få se en fjällräv, det är ovanligt i svenska fjällen.
Turens längd: 22 km / 6 - 8 tim
Höjdskillnad: 520 m uppför, 400 m nedför.
Enligt egen uppskattning.
Alesjaure hut to Nallo hut
Started my hike at 9 am after the usual fillup of water in the kitchen, throwing out the dirty water and cleaning the room. Continued along the Kungsleden trail towards the Tjäktja hut. Just before the hut I took a left up the valley Sielmmavaggi, following the stream. The fog (low clouds from about 1100 meters) got me disoriented, and I found myself back in the Tjäkta valley after a 2 hours. Second try I follow the compass and the altitudemeter closely, making sure I get the correct route to the pass. Cumbersome and hard hiking in the Sielmmavaggi valley due a lot of snow, rather wet snow too, making the snowbridges risky. There were also a rock passage with slippery and loose rocks. A lot of snow this summer, according to the cabin hosts. I was lucky enough to see a mountain fox, they are really unusual in the Swedish mountains.
Length: 22 km / 6 - 8 hours.
Altitude: 520 m uphill, 400 m downhill.
According to my own estimate.
Vilken topp! Vilken sol! Vilken dag!
Vi, jag och Peter som är stugvärd i Nallostugan, gör en endagstur och går till Räitatjåkkå. Vi startar vid 8 och går upp vid sidan av den glaciär som ligger på nordsidan vilket får anses vara en o-ortodox angreppsväg. Det blir lite scrambling på vägen upp, och då var det fortfarande lite moln på himlen, men det hela går bra och kl13 är vi på Räitatjåkkå-toppen på 1934 m. Solen skiner på oss på toppen och inte så mycket vind, så det bor lunch på toppen. Fantastiskt!
Efter toppen går vi söderut ner till Unna Reidavagge, viker av västerut och går åter mot stugan.
1089 m uppför, medel 6 m/min, 1089 m ner, 7m/min.
Enligt egen mätning.
One day tour from Nallo hut with brilliant sunshine!
We, me and Peter who is the guardian at the Nallohut, goes for the top Räitatjåkkå. We started at 8 am and went up to the left of the glacier on the north side, which is probably an unusual route to the top. We had to do some scrambling on the way and in the morning there are still some clouds. But everything went well and at 1pm we were at the top of Räitatjåkkå at 1934 m. The sun was shining at us and hardly no wind, so we decide for lunch at the spot. Great!
We continued south to the Unna Reidavagge valley, turning to the west in the valley to return to the hut.
1089 m up,averege 6 m/min, 1089 m down, 7m/min.
According to measurement.
Jojoleden till Tarfala
Start kl 9, på 915 möh, går Stour Reaiddavaggi mot Reaiddajavri och viker av direkt mot Unna Räitastugan (obemannad, endast för användande i nödfall). Vid stugan går jag mot Pyramidpasset, mellan knivkammen och Pyramiden (pass nr 1, 1490 möh, där jag tar lunchpaus i solen) , fortsätter rakt söderut genom Gaskkasvaggi till pass nr 2 (1490 möh, fikapaus). Fortsätter ner i dalen, tar norrsidan och sedan östsidan om sjön och upp i pass nr 3 söder om Gaskkasbakti (1480 möh), gick söder om Gaskkasjavri, sedan till norra kanten av glaciären (OBS viktigt, när man kommer från norr, att man går till kanten på glaciären för att komma rätt på stenåsen ner mot sjön), rundar sjön Darfaljavri på nordöstsidan och är framme vid Tarfalastugan kl 18.30.
Det blev en lång dag, 1200 m uppför ca 20 km vandring i obanad terräng, men en fantastisk dag blev det!
The Jojo trail to the Tarfala hut
Start at 9 am, altitude 915 m, I walked up Stour Reaiddavaggi to Reaiddajavri and turned east towards Unna Räita hut (not manned, only for emergency). At the hut I turned south to the Pyramid pass, between "knivkammen" and the Pyramiden top (pass no 1, 1490 m, where I had a lunch break in the sun), then I continued straight south to the Gaskkasvaggi valley to pass no 2 (1490 m, having a Swedish "fika" paus). Continued down to the valley, taking the north and then the east side of the lake and then up to pass no 3 south of Gaskkasbakti top (the pass is at 1480 möh), then the south side of Gaskkasjavri, walked to the edge of the glacier (OBS: it's important, when taking the trail from the north, to walk to the edge of the glacier, in order to arrive at the stony ridge leading to the lake), rounded the Darfaljavri lake on the northeast side and I arrived at the Tarfala hut at 6.30 pm.
I got a long and tough days hike, 1200 m uphill and about 20 km hiking in snow and rocks, but a fantastic day.
Vilodag vid Tarfalastugan
En vilodag efter tre ganska hårda dagar på rad. Dessutom vill man verkligen stanna i fjällen så länge som möjligt när vädret är så här bra!
Jag går en tur till forskningsstationen men för tillfället fanns ingen möjlighet att visa den informationsvideo de brukar visa (de höll på att byta golv i det aktuella rummet) så jag gick vidare mot Darfalcorru, 1626 m. Tittade på hur det gick för de tre som gick mot nord/syd-toppen via glaciären och halspasset, verkar vara en fin tur, den kräver dock klätter- och glaciärkunskaper samt utrustning. Jag gick istället tillbaka till stugan och gjorde en timmes vedhuggning för att vila benen.
Resting day at the Tarfala hut
Had a resting day after three days of hard hiking. And, when the weather is so great, one have to take the opportunity to stay in the mountains as long as possible!
I took a hike to the glacier research station, but currently they had no possibility to show the information video they normally show (they were exchanging floors in the showroom) so I continued to the Darfalcorru top, 1626 m. I was following the group of three that started towards the Kebnekaise North/South peak via the glacier and the "Halspasset", that is an advanced climbing tour partly on glacier, but it seems like a nice tour. I walked back to the hut to do one hours wood chopping - to rest my legs.
Tarfalastugan till Nikkaloukta
Det är 6 km från Tarfalastugan till bron vid kebnekaise fjällstation, ytterligare 18 km till Nikkaloukta, det borde ta 2,5 timme för del 1 och 4 km i timmen för del 2, alltså 7 timmar. Bestämde mig för att gå upp kl 3 och började vandringen kl 3:50. Första sträckan till bron är avklarad efter 1,5 timme och jag anlände i Nikkaloukta kl 10:15. Det var alldeles vindstilla så jag fick några fantastiska bilder över Kebnekaise massivet med reflektion i Laddjujavri. Tog ett sista dopp i Laddjujohka innan jag klev bussen till Kiruna kl 12:00. Sedan nattåg till Stockholm.
Tarfala hut to Nikkaloukta
It is 6 km from the Tarfala hut to the bridge close to Kebnekaise fjällstation, and then another 18 km to Nikkaloukta, it should be 2,5 hour for part one and 4 km per hour for part two, totally 7 hours. I got up at 3 am and started the hike at 3:50. First part to the bridge was done in 1,5 hour and I arrived in Nikkaloukta at 10:15. The sun was shining from a blue sky and there was no wind at all, so I got some great pictures of the Kebnekaise mountains with a nice reflection in the Laddjujavri lake. I had a swim in the Laddjujohka river before taking the bus to Kiruna at 12:00 noon. Then the sleeper train to Stockholm.